Our focus for the 1-2's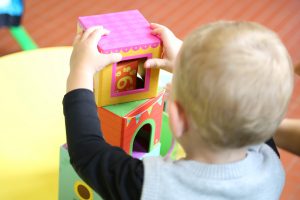 Socialising – Playing with friends, having meals and snacks together, making relationships and building on them.
Physical – Climbing and manoeuvring on slides, using climbing frames, ball pools, soft play (within the room), focusing on building confidence with walking/running and different ways of moving, putting things together (construction), use of bricks and puzzles.
Maths – Counting, starting to quantify – more/less/bigger/smaller, learning positional language, enhancing understanding – next to/under/over/in front/behind
Communication & Language – Listening to others, finding out names, putting words together, exploring songs and rhymes, actions and different music styles
Expressive Arts – Exploring different materials, paints, chalks, pencils, felt pens and crayons. Flour, gloop, sand, water, dry and cooked pasta, rice and we love doing cooking activities
Knowledge & Understanding – Technology toys with buttons, flaps, knobs and turns, wind up toys and friction toys
Literacy – Using different types of mark making equipment, reading stories, picture books, listening to story tapes. Using our imaginations to pretend – making cups of tea, home corner – feeding the babies. Small World toys – farm, trainsets, cars/garages and looking after the dolls house.
---
1-2's is an exciting place. We have all sorts of construction resources – Duplo, stickle bricks, wooden shaped bricks and coloured bricks. In role play our 'little' hairdressers will style your hair, bring you tea and cake, mend your house, look after the babies, go to the shops, then off to the games area!
The gym provides the children with soft play and ball pool, slides and climbing frames and all before lunch with their friends.
Finally, our budding Picasso's and Matisse's can have a comfy nap after a busy morning and then be fresh for the afternoon activities.